ELKHART — Although some local restaurants are trying delivery service for the first time and adjusting their menus following a statewide ban on sit-down service, the changes won't be enough to avoid layoffs.
"I had to lay off 75 percent of my staff last night," Jeanne Kern, owner of The Vine, 214 S. Main St., said Tuesday.
Gov. Eric Holcomb ordered an end to all sit-down service at bars, nightclubs and restaurants in an effort to contain the spread of coronavirus.
The Vine, which is mostly geared toward guests eating in, is now doing delivery for the first time ever.
Delivery is free in downtown Elkhart no matter the size of the order, Kern said. For orders of $100 or more, delivery is free within a 5-mile radius. But Kern encourages patrons to do curbside pickup.
"People can walk in and order if they like," she said. "My preference would be to stick with the curbside."
To make ordering easier, The Vine will launch an online ordering system on Wednesday or Tuesday.
Though orders were coming in around lunchtime on Tuesday, sales were not close to normal levels, Kern said. And, of course, the dining area was completely empty of people.
"It's a ghost town," Kern said. "It feels like living in a movie."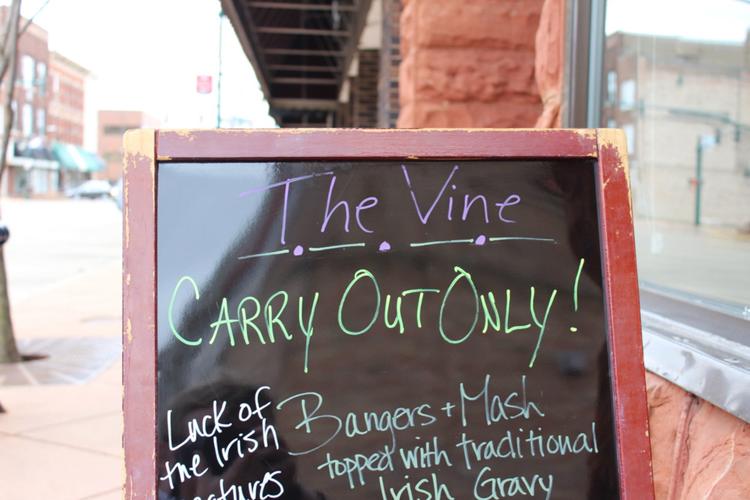 Her concern is how many weeks the movie will run. This time of year is slow already, so the dine-in ban only adds to the uncertainty.
"As a small business owner, if I don't have income, I don't have anything," Kern said.
For now, The Vine is running with a limited menu and pick-up and delivery times from 11 a.m. to 2 p.m. and 5 to 7 p.m. Monday through Friday.
A few blocks down Main Street, 523 Tap & Grill owner George Anagnos also laid off staff.
"We're trying to adapt as fast as we can with more options on carry-out," he said.
Anagnos is also considering compressing the menu, though he said more sandwiches are being added to the evening menu. 523 Tap & Grill will open at noon with the kitchen closing at 7:30 p.m.
How long the restaurant can remain open under these circumstances depends on how much people are willing to order local takeout.
"We're hoping we can weather this storm," Anagnos said. "What used to be a vibrant restaurant now is just real calm and not a lot of noise."
The number of takeout orders was up Tuesday at lunchtime.
"A lot of people are supporting us, and we're thanking each and every one that comes in," Anagnos said. "What is nice is, they said they're trying to do their part to help other restaurants also."
That kind of support was keeping Old Style Deli busy at noon.
"I had anxiety when I heard we had to shut everything down, but today I've just been overloaded with people calling, coming in and picking up stuff," said owner Derek Ogawa. "It's been kind of amazing today, but I don't know how long that's going to last."
Looking at social media, he said, it was clear that locals would be supportive.
"I'm pretty thankful for that," he said.
For now, Old Style Deli is operating with its normal staff, but Ogawa said he may have to adjust.
Since the restaurant has no people in it, Ogawa and his staff took advantage of the empty tables, using some for a delivery staging area filled with bags ready to be taken out to patrons, who kept Ogawa busy both at the front desk and on the phone. One particularly helpful patron made an order for "the regular" and said he was bringing in hand sanitizer.
But Old Style Deli is also trying to make life easier for patrons. Some adjustments already made include adding curbside pickup and expanding the delivery area from just downtown to a few more miles out, depending on how busy the kitchen is.