ELKHART — More Elkhart County residents died from COVID-19 in October than in any previous month.
According to the Indiana State Department of Health, at least 36 Elkhart County residents died from COVID-19 in October. Previously, the most deadly month had been July, with its 31 COVID-19 deaths. But as the number of cases has surged since September, COVID-19 deaths have also grown more regular. Since deaths tend to happen weeks after people are infected, and the number of infections shows no signs of slowing down, deaths could well become even more regular, health experts believe. Since reports of deaths can be delayed by several days, it is possible that the death tally for October will grow.
Between 2015 and 2019, Elkhart County had an average of 1,833 total deaths per year. With two months left of 2020, the county's 152 COVID-19 deaths now account for 8.3 percent of the normal number of deaths in a year. Elkhart County Health Department data show 2020 is on course to have more deaths than any of the previous five years.
Hospital staff getting sick
The effects of the worsening outbreak are felt at local hospitals, where overworked staff members are getting sick and being forced to quarantine, decreasing the hospitals' ability to offer care while the demand for COVID-19 beds is growing.
Elkhart County hospitals totaled 92 COVID-19 inpatients Monday, with 32 at Goshen Hospital and 60 at Elkhart General. There have never been more new cases per day in the county than now, as the seven-day average for cases per day sets a new record on an almost daily basis. As of Sunday, the average is 179 new cases per day, more than twice the highest point during the first wave in June, which was 78.
That kind of community spread increases the chances of hospital staff members getting sick, officials with both hospitals have said. Goshen Hospital chief medical officer and infectious disease specialist Dr. Dan Nafziger urged the community to take the virus more seriously.
"Colleagues are being exposed to COVID-19 in the community and are testing positive or needing to quarantine because they've been around someone who tested positive. This is causing concerning staff shortages in the hospital as well as our other healthcare offices. It is a real problem.
"Please reduce the nonessential time you are out in public – at work, school, church or shopping. We appreciate everything you do to protect yourself and your loved ones, as well as our healthcare professionals, from contracting the virus. Smaller gatherings at home with family and friends are also spreading the virus," Nafziger said.
New records
The number of new cases per day is more than six times higher than on Sept. 10, when the outbreak hit its most recent low point with a seven-day average of 28 cases per day. The number then began to steadily increase, reaching an average of 51 per day by Oct. 5, before skyrocketing to the new record of 179 per day Sunday.
It is not just cases setting new records. At an average of 1,059 per day, more tests are now being performed in Elkhart County than ever before. In fact, almost twice as many tests are being done per day compared to the worst parts of the first wave. However, that is a result of individuals getting tested more times, not of more individuals getting tested. The average number of individuals tested per day was 426 as of Oct. 26, which is the most recent date with non-preliminary data. The average hit 467 during the worst part of the first wave. In other words, the spike in cases cannot be explained by the spike in testing.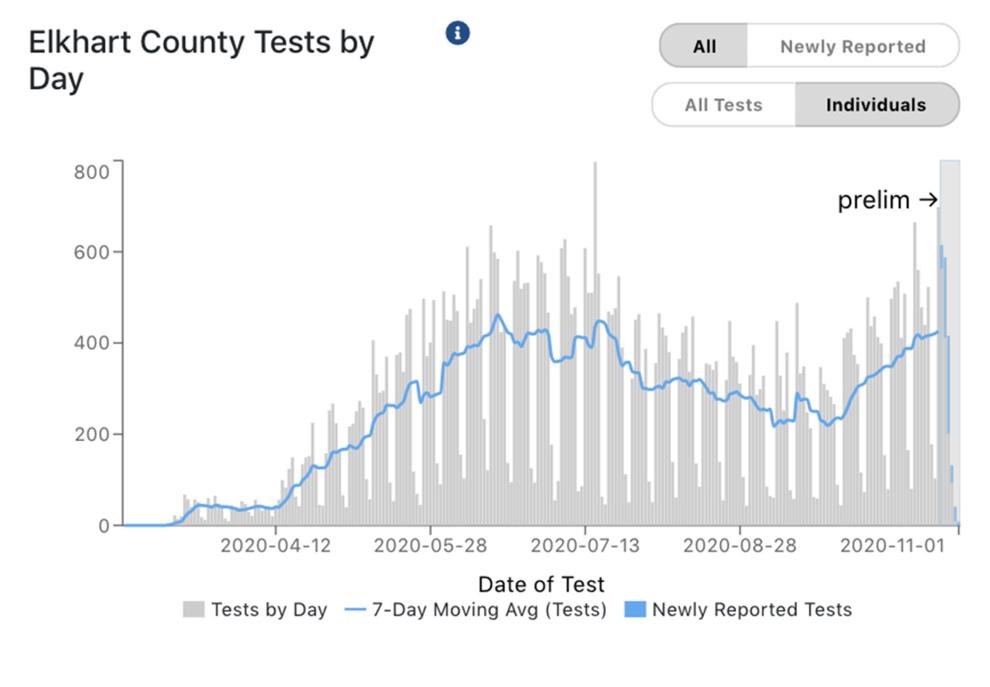 The seven-day average positive test rate was 11.3 percent on Oct. 26, almost twice what it had been a month earlier, but below the high of 15.4 percent that was recorded in April. The current seven-day average for Indiana is 8.2 percent.
The average positivity rate for individuals, however, hit a new record at 26 percent as of Oct. 26. It had largely been around 11 percent to 13 percent between late July and late September. The high during the first wave was 23 percent. The current seven-day average for Indiana is 15.9 percent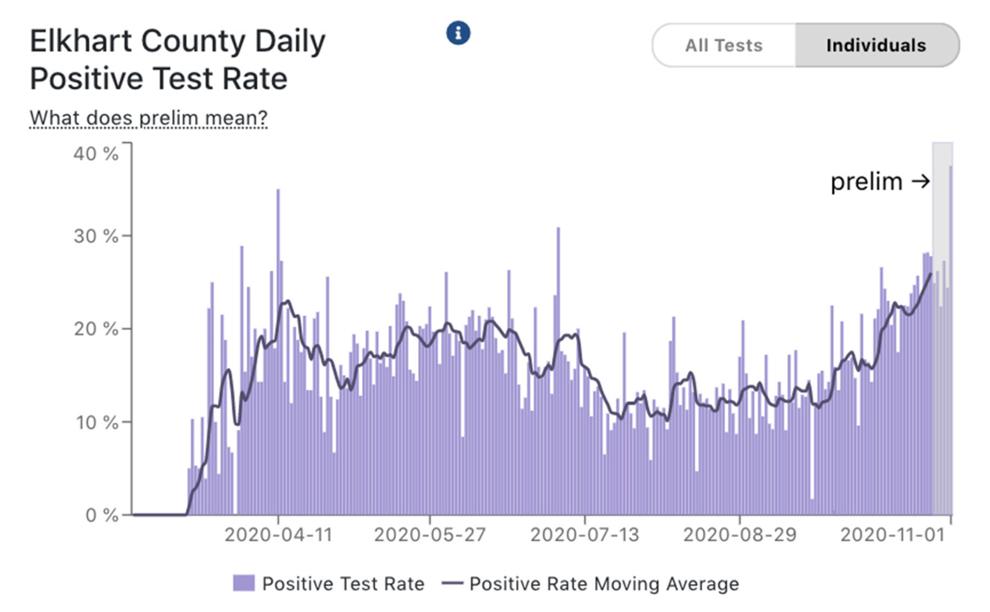 Recovery
There has been a total of 10,505 confirmed cases of COVID-19 among Elkhart County residents. An estimated 6,790 people have recovered from COVID-19, according to Indianapolis-based Regenstrief Institute. The estimate is created by calculating the number of individuals who tested positive more than 21 days ago and have not been hospitalized, plus individuals who tested positive more than 21 days ago and were hospitalized and have been discharged for a least seven days, minus the number of deaths reported by the Indiana State Department of Health.
On Monday, 3,080 new cases of COVID-19 were reported statewide, moving the state's seven-day average to 2,960. The state has now had a total of 185,185 cases.
Twenty-six new deaths were reported statewide Monday, making the state's total 4,150.