ELKHART — The county Health Department expects Elkhart County's COVID-19 alert level to move to red next week.
The alert level reached orange, the second of four levels in the state's color-coded system, last week and moved closer to a higher-risk level this week, state data show.
"That means our rate of positivity is increasing, that means we have more community spread," Elkhart County Health Department spokesperson Melanie Sizemore said.
Elkhart County has reached a unique individual positive test rate of 21 percent in the seven-day average, which is 10 points higher than a month ago and nearing the all-time high of 22.3 percent, which was set on April 14.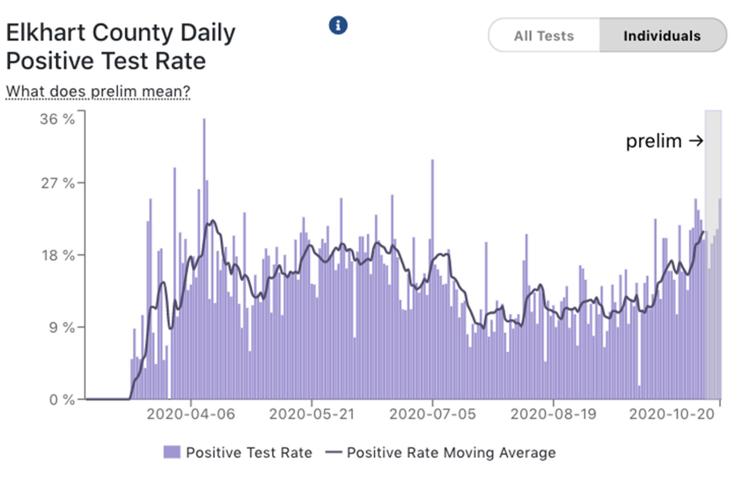 What kept the county from moving to red this week was the seven-day average positive test rate for all tests, not individuals, which was at 10.13 percent and would need to reach 15 percent before the alert level changes. That particular rate has not been above 15 percent in the seven-day average since April, but according to Sizemore, the ECHD expects it to happen again.
"We're that close. And without people taking this seriously and doing what they need to do for the community, we're not going to see significant change," Sizemore said.
Going to the red level would mean that the state would engage the local Health Department and health providers to discuss taking actions such as restrictions on the size of social gatherings, business capacity restrictions, limits on visitation in congregate care, jails, hospitals, and closure of senior centers, rescheduling elective hospital procedures, and restricting attendance at K-12 extracurricular activities.
Gov. Eric Holcomb in his news conference Wednesday said Indiana Department of Homeland Security Director Stephen Cox is in Elkhart County "to learn more about what we can be doing as a partner with Elkhart County."
Not caused by nursing homes
With the recent spike in cases, some wonder whether outbreaks at local nursing homes play a significant role. That does not appear to be the case.
According to Indiana State Department of Health data, long term care facilities in Elkhart County have reported a total of about 350 cases of COVID-19, or 4.1 percent of all 8,530 confirmed cases in the county. In the last 30 days, a total of 2,176 new infections have been reported in county residents.
However, nursing home residents make up more than half of the COVID-19 deaths in Elkhart County. Out of 136 confirmed COVID-19 deaths in Elkhart County, at least 77 were nursing home residents. Due to individual nursing homes not reporting the exact number of deaths if it is below five, the total could be up to 89.
Elkhart County is at 4,133.9 cases per 100,000 residents, exceeded only by Cass County at 5,911.5. All other Indiana Counties are below 4,000.
Goshen Hospital and Elkhart General have a total of 64 COVID-19 inpatients, which is three times what they had when the local outbreak appeared to be getting under control in late summer and early spring.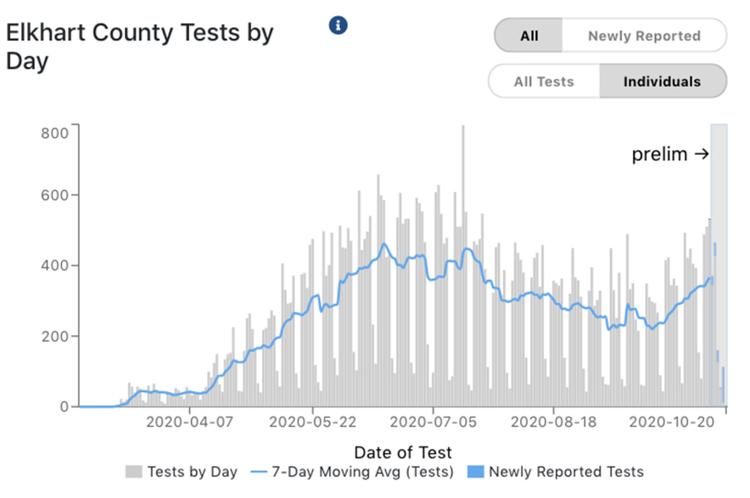 The number of Elkhart County residents getting tested continues to go up again and is at an average of 366 a day, or about 100 more than a month ago when testing was at its lowest. The county has yet to be testing as much as during the worst part of the first wave of infections in June, when the average reached a high of 462 a day.
Indiana's flu season has begun, and the Indiana State Department of Health reports 71 cases of influenza-like-illnesses (ILI) recorded statewide by health care providers participating in the reporting. That is slightly above the normal level at this point of the year, which has been around 40 to 60 in recent years.
No flu deaths have been reported at this point, which is normal. The 2018-19 and 2019-20 flu seasons resulted in 119 and 132 deaths statewide, respectively, which also is normal. In Elkhart County, six residents died of the flu in the 2019-20 flu season, and fewer than five died the previous season.
Health experts recommend getting a flu shot as soon as possible.