ELKHART — Indicators show that the COVID-19 outbreak in Elkhart County has become less severe in recent weeks despite an anticipated Thanksgiving surge.
Both the number of new cases and hospitalizations are down from recent record highs, and though the current numbers are still some of the worst seen in this pandemic, Elkhart County Health Officer Dr. Lydia Mertz said the development is good news.
"We still have quite a ways to go, but this is a great start," she said in a release Monday.
The health officer added that people still need to keep wearing masks, social distancing and washing hands.
"That is what is bringing down the case rate now, and that will keep it moving in the right direction," she said.
The plateau and drop-off in cases happened shortly after both Mertz and Gov. Eric Holcomb introduced new restrictions, including limits on the number of people at gatherings, in mid-November.
Goshen Hospital Chief Medical Officer and Infections Disease Specialist Dr. Dan Nafziger praised elected officials for their efforts.
"I am particularly appreciative of our elected officials who have made good choices to protect the health of our community," he said in separate release.
He also praised community members for stepping up.
"I appreciate everyone of you who is taking COVID-19 seriously and doing your part by wearing a mask when outside your household 'bubble,' " he said. "Wearing a mask shows you care about your health and your neighbor."
The number of new cases has dropped from a seven-day average of about 300 per day in mid-November – the all-time high – to below 200 per day now. An Elkhart County Health Department spokesperson said Thanksgiving-related cases should begin showing up in the data by the end of last week, but so far, that has not caused a spike. However, the number of daily cases is still more than twice as high as during Elkhart County's first wave in June, where the seven-day average reached a high of 78 new cases per day.
Additionally, the number of people getting tested has dropped by a slightly higher percentage (47.7 percent) since its peak in mid-November than has cases (45.7 percent). Meanwhile, the positive test rate has remained roughly the same.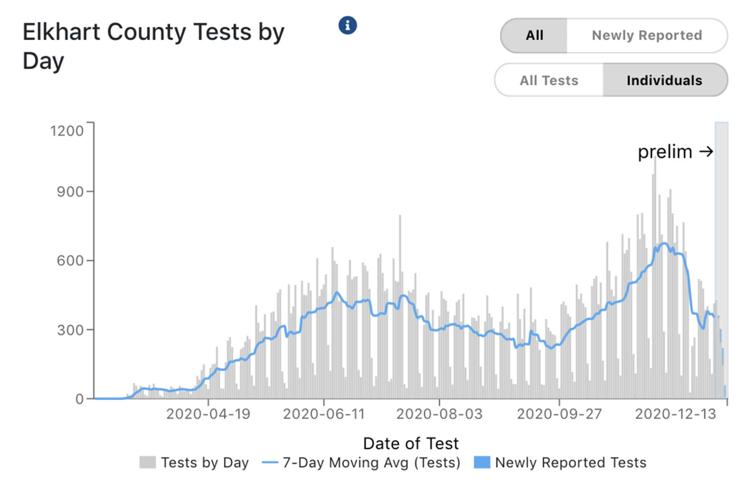 Deaths not slowing down
November was, by far, the month that had the most new cases, and more than half of the county's total confirmed cases (11,060 of 20,831) were recorded in the last 45 days, according to the Indiana State Department of Health.
Hospitalizations are down from the peak of about a month ago, when Elkhart County had about 90 COVID-19 inpatients and Goshen Hospital had about 60. On Monday, the number of COVID-19 inpatients was 64 in Elkhart and 34 in Goshen. In accordance with an order by the governor, all elective non-urgent surgeries will be canceled from Dec. 16 to Jan. 3 to help hospitals have enough staff and beds for the high number of COVID-19 inpatients.
Data from Indianapolis-based Regenstrief Institute show that Elkhart County had 245 total COVID-19 hospitalizations from Nov. 10 through Dec. 10. One hundred fifty-five of those inpatients were 60 or older. Sixteen residents between ages 20 and 29 were hospitalized in this period, and five or fewer residents younger than 20 were hospitalized with the virus.
COVID-19 deaths in Elkhart County have yet to slow down. The county has had a total of 278 COVID-19 deaths, 96 of which occurred in the last 30 days. The last 45 days had 130 deaths, nearly half the county's COVID-19 deaths since March. Seniors are the most at risk, and 93.5 percent of the residents who died from the virus were 60 or older.
As of Sunday, Elkhart County had 34 COVID-19 deaths this month, or about 2.6 per day. Mertz called that rate "astounding," and pointed out that if it continues, December could be about as bad as November, when 92 county residents died.
"We need to do all we can to protect the lives of our neighbors, families and ourselves," she said.
In a special meeting, the Elkhart City Council was set to vote Monday evening on an ordinance to help the Elkhart County Health Department with enforcement of COVID-19 restrictions for businesses within city limits. Though similar ordinances were proposed in Nappanee, Goshen and Elkhart last week, no city had yet adopted the ordinance.
Should one or more cities reject the proposed ordinances, enforcement of the ordinances within city limits will fall to the county. ECHD spokesperson Melanie Sizemore said Monday that the county is currently working through how that can be done and whether additional staff would be needed.