ELKHART — Dr. Michelle Bache became the first person to receive the Pfizer COVID-19 vaccine at Elkhart General Hospital about 7:05 p.m. Friday.
About an hour later, staff at Goshen Health began getting their shots as well, as hospitals follow Centers for Disease Control and Prevention directions to vaccinate health care workers first.
Elkhart General and Goshen Health each received 975 doses Thursday.
Bache, who is Elkhart Generals' vice president of Medical Affairs, has been the main COVID-19 spokesperson for the hospital during the pandemic. The pandemic has put the hospital above inpatient capacity, has forced the postponement of non-emergency procedures, and has pushed staff to work many long shifts. After receiving her first of two shots, to applause and cheers from some of her colleagues, Bache said through tears that the vaccine finally arriving is a relief.
"It's been long. It's been a long year, and I think everybody here shares a gratitude, and we're just so anxious to get through this, and this is really a big step. So I am excited and grateful," she said.
By receiving the vaccine publicly, Bache said she hopes to send a message that she, a medical expert, is not afraid and that it is crucial and important to get the vaccine.
"There has been so much suffering, the whole country is suffering. The impact of this is incomprehensible," Bache said. "I think I can now finally see a path out."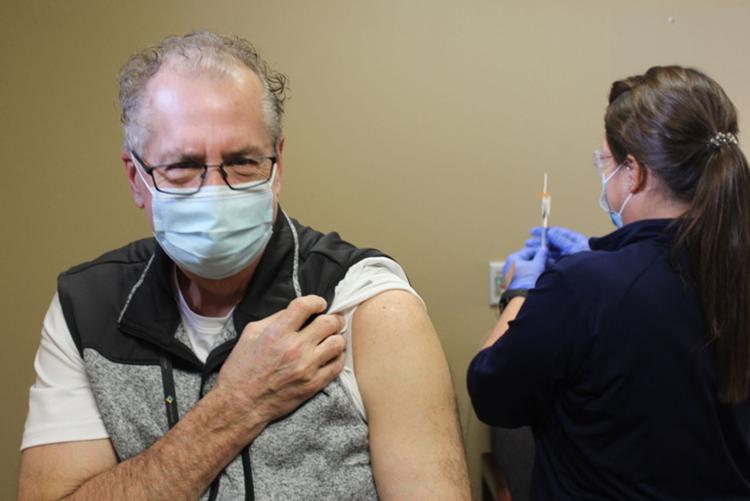 Dr. David Koronkiewicz received his first shot later Friday. He said the vaccine arriving felt like a new day, a phoenix rising from the ashes. For him, the decision to get the shot was easy, and he encourages other health care workers to get immunized as well.
"I went over all the risks and all the benefits, and I said: You know, we're in health care; we've got to take care of our patients, but we also have to take care of ourselves. If we can't take care of ourselves, we can't take care of our patients," he said.
Trials found that the vaccine is 95 percent effective, and Koronkiewicz said it is important to keep wearing a mask, washing hands and social distancing after getting the vaccine, at least for a while longer. When the vaccine becomes available to the general public, it is also important that even young and healthy people get it to limit the risk of infecting those who could still be at risk.
There is still a long way to go, as Koronkiewicz said achieving herd immunity requires that 60 percent to 70 percent of people either have had the virus or the vaccine. It is unclear exactly how many have had the virus and for exactly how long immunity lasts, but the CDC has estimated that about 15 percent of the U.S. population had been infected from late February through September.
"This is just a start," Koronkiewicz said. "I'm just a little piece, but hopefully I can encourage my patients and my colleagues to get it, because it's an important thing."
A recent poll by the Kaiser Family Foundation found that Americans are growing less skeptical of taking the vaccine, as 71 percent of respondents in late November and early December said they would get a vaccine, up from 63 percent in September. Some survey respondents who did not want to take the vaccine said they were concerned about whether it is safe. Koronkiewicz said the vaccine has been tested properly and that there is no reason to be more concerned about this vaccine than others.
There are some possible side effects, just like any other immunizations, he said, including soreness, fever and allergic reactions. But that, the doctor believes, it worth it.
"If you want to have grandma and grandpa here for Christmas next year, you might want to take that vaccine. You're not only helping yourself, but you're helping the rest of the community," he said.
Vice President Mike Pence the former Indiana governor, also received a shot of the vaccine Friday, calling it "safe and effective." Hope is one the way, he said.
Bache, Koronkiewicz, Pence and others receiving the vaccine will need another shot in three weeks for it to become fully effective.
The CDC is partnering with CVS and Walgreens and other organizations to offer on-site COVID-19 vaccination services for residents of nursing homes and assisted living facilities.