ELKHART — Some data points come up short in describing the severity of the COVID-19 outbreak in Elkhart County because of a recent backlog in getting test results, health officials say.
Individuals studying recent Indiana State Department of Health data for the county may have grown optimistic, as the data have shown a decrease in the number of new confirmed cases in Elkhart County over the last few weeks. The week of June 15-21 had the highest number of new cases at 457, with the two full weeks since then showing decreases to 389 and 293, respectively.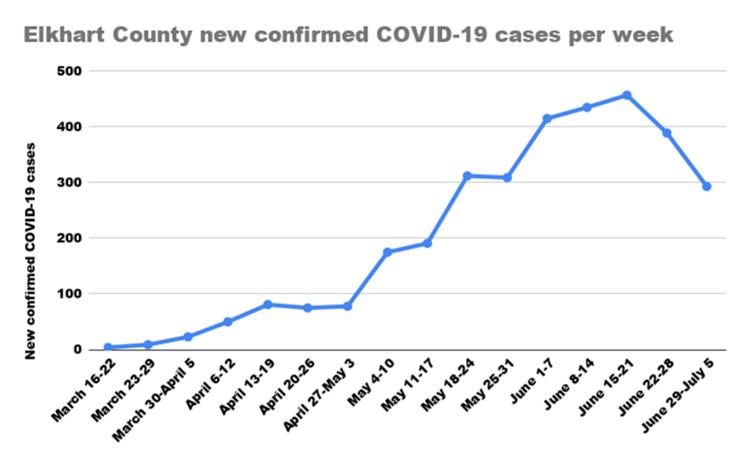 But those numbers do not accurately represent reality, according to Jennifer Tobey, Elkhart County's emergency management director.
Goshen Hospital alone is waiting for the results of more than 800 tests, Tobey said. Elkhart County's positive test rate has generally been between 10 percent and 15 percent, meaning that those tests alone would add about 100 cases, and plenty of other testing is going on throughout the county.
"The labs are slammed," Tobey said. "We are waiting eight to 10 days to get test results."
The waiting time has previously been about 48 hours, and the county is not sure why residents now have to wait so much longer.
"The speculation is that we have neighboring states whose numbers are going up, and maybe all of us are using the same lab," Tobey said.
And the 48-hour waiting time might not be back until late August or early September because of how backlogged the lab is, she said.
So even though the last two weeks have shown a downward trend in the number of new confirmed cases, Tobey believes those weeks will eventually be record-breaking.
She also expects that there is a backlog in confirming COVID-19 deaths.
The number of related deaths in Elkhart County hit 57 on Thursday, with 12 of those occurring in the last seven days. Because COVID-19 deaths often rely on the same tests to be confirmed, it may take just as long to confirm COVID-19 death as it takes to confirm an infection.
CDC at work
The Centers for Disease Control and Prevention has six people working to figure out why the outbreak continues to surge in Elkhart County. But according to Tobey, there will be no simple explanation. It is not, for instance, that COVID-19 is spreading at exceptional rates in certain parts of the county or in certain population groups.
"It's all over the place," she said.
The CDC's approach will include taking over contact tracing, meeting with community leaders and analyzing data. The entity will work in Elkhart County until July 23 and will then deliver a report that should help local officials get the outbreak under control.
"Nobody else in the State of Indiana has received the CDC on-site, just specifically looking at COVID-19," Tobey said. "There's a reason they're here, and, unfortunately, it's not a very positive reason."
Elkhart County's recent mask mandate may not have shown results yet but could have a positive effect if residents comply. However, the mandate is not enforced, and the county has no real way of knowing how many residents wear a mask when they should.
Residents are not required to wear masks at all times when in public – only when 6-foot distancing cannot be observed. But if the residents do not follow the order and the number of new cases continues to rise, there is a possibility that police will be asked to enforce the order.
"I don't think that's an avenue that we currently want to travel down, but I do think that we're definitely asking those questions and trying to receive some feedback from CDC and from the State Department of Health and other counties to see what they're doing," Tobey said.
According to Elkhart Mayor Rod Roberson's communications director, Corinne Straight-Reed, the administration has discussed the possibility of creating its own enforceable mask mandate for the City of Elkhart, though she was not certain about the city's ability to do so without the county.
"But we will continue to explore all options available," Straight-Reed said in an email.
Thirty-one new confirmed cases of COVID-19 were reported in Elkhart County on Thursday, bringing the total to 3,432. Two new deaths were reported as well, meaning that at least 57 Elkhart County residents have died from the virus.
To date, 24,964 people have been tested in the county, and the positive test rate is 13.7 percent, according to the Indiana State Department of Health.
This article has been updated to accurately reflect how many Elkhart County COVID-19 deaths had been reported in the seven days prior to publication.