ELKHART — Coronavirus-related state restrictions for Elkhart County were loosened Wednesday, as the county's outbreak is now considered one of the least severe in Indiana.
The county's advisory level switched from red – the most serious – to orange, as a result of the outbreak receiving a less-than-red score for two weeks in a row. But Elkhart County's score for the last week was actually yellow – the second-best – making this area one of eight counties in the state to receive that score.
No counties are considered blue.
Red scores require both a positive test rate of at least 15 percent and at least 200 weekly infections per 100,000 residents. For orange, the requirements are 10 percent to 14.9 percent and 100 to 199 weekly infections.
Elkhart County had a positive test rate of 9.79 percent for the past week, which is enough to achieve a yellow score even though the county had 171 new cases per 100,000 residents.
Except for Marshall County, which also received a yellow score for the past week, all surrounding Indiana counties are considered orange.
Elkhart County's orange advisory level means social gatherings are allowed to have up 50 people, compared to 25 until now, though organizers of gatherings with more than 25 people need to have a COVID-19 safety plan approved ahead of time by the Elkhart County Health Department. Winter sports, such as high school basketball games, will be limited to 25 percent capacity rather than just guardians and siblings of the participants.
The loosened restrictions are all related to an executive order by Gov. Eric Holcomb, though he announced Wednesday that those restrictions will be changed next week. The changed score has no effect on the county's own restrictions that mainly focus on making sure businesses and organizations take precautions.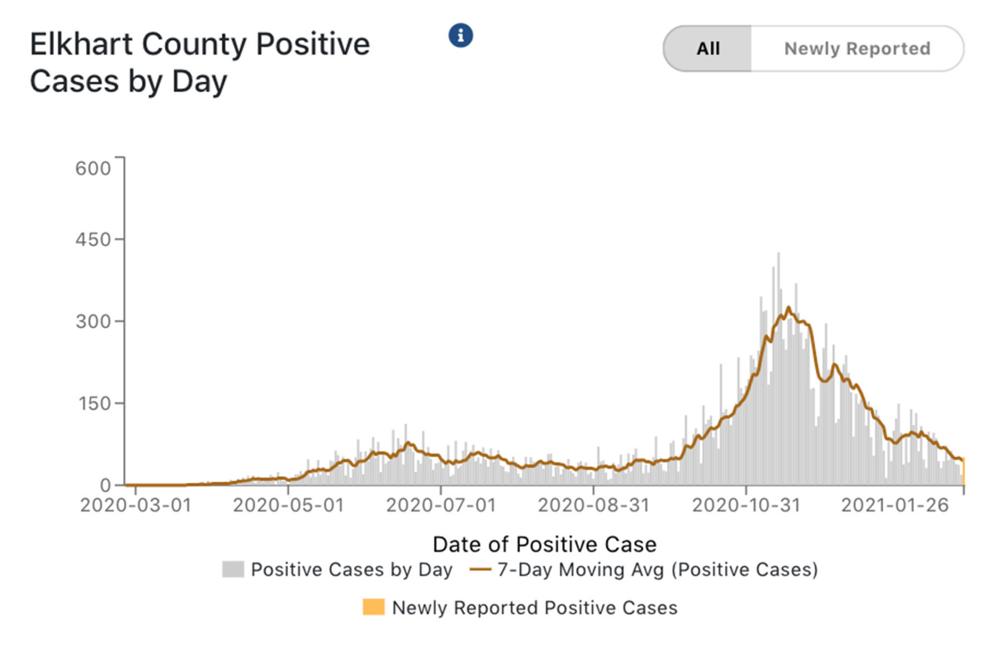 Hospitalizations are significantly down at Elkhart County hospitals compared to November and December, when Goshen Hospital and Elkhart General Hospital were both above inpatient capacity, despite postponing elective procedures. When the outbreak was at its worst, the hospitals had a combined total of COVID-19 inpatients of about 150. Wednesday, the total was 24, with 14 at Elkhart General and 10 at Goshen Hospital.
"Things are continuing to go well, we're continuing to make good progress with our COVID numbers declining, and we're getting closer to business as usual," said Dr. Michelle Bache, Elkhart Genera's vice president of Medical Affairs. "We're doing elective procedures – we're able to offer all services now and there really are no restrictions because the number of COVID patients now is very manageable."
The hospital does have some catching up to do because of the postponed elective procedures from last year, so the operating rooms are busy, but at a level that the staff can manage, she said. Elkhart General had fewer than 140 total inpatients Wednesday, just below the normal capacity of 144.
Bache said that, despite the positive trends, members of the community should not think they can stop taking precautions.
"I didn't think that we'd get down to yellow this fast, and I guess my only concern is that people take that as a permission to kind of ease up on precautions, and we have to still be very diligent. We don't want to go back to where we were," she said. "We still need to wear masks, we still need to social distance, we still need to wash hands."
COVID-19 deaths have also become less frequent, though they are still occurring more frequently than at any point until November, which was the county's deadliest month with more than 90 COVID-19 deaths. December had about 70 COVID-19 deaths, while, the Indiana State Department of Health said there have now been 38 COVID-19 deaths in Elkhart County in the past 30 days. In total, 347 Elkhart County residents have died from the virus.
New infections have reached a seven-day average of 44 per day in the county, which is the lowest since Sept. 26.
That means that more Elkhart County residents are getting vaccinated for COVID-19 each day than are getting infected. According to ISDH, 472 first doses and 82 second doses were administered to Elkhart County residents Tuesday.
A total of 12,350 Elkhart County residents have received the first dose of a COVID-19 vaccine, while 2,934 have received the second dose, which is required to be fully vaccinated.
People who are 70 or older, are first responders, health care workers, or those who live or work at a long-term care facility are eligible to receive the vaccine. Residents can sign up by calling 2-1-1 or 574-523-2106 or by visiting vaccine.coronavirus.in.gov.
A caregiver or loved one may make an appointment on behalf of an eligible senior.
Correction: The article was updated to reflect that, while gatherings of up to 50 people are now allowed in Elkhart County, safety plans must be submitted to and approved by the Elkhart County Health Department in order for gatherings with more than 25 people to be permitted.