ELKHART — Mayor Rod Roberson, who became eligible Tuesday to be vaccinated for COVID-19, received his first of two doses at Elkhart General Hospital on Wednesday morning, shortly before Elkhart County's weekly coronavirus risk assessment was downgraded to blue.
Roberson, 62, said he invited the media to be there for his shot because some community members remain skeptical about getting vaccinated.
"I wanted to make sure to let folks know that this is the means to make sure that we are safe and that we can get back to some normalcy," he said. "This is a pandemic that is hitting our entire community, and we know that vaccines are the only way out."
Roberson, who is African American, also pointed out that he might be better suited than most to get the word out to minorities, who remain underrepresented among those who have received the vaccine in Elkhart County.
"I know that in African American and Latino communities, Black and brown communities, that it becomes difficult for multiple reasons. Believe me, I'm a part of that community, I understand that. But what's important is that we do our part," he said. "I just happen to be African American, but I'm also the mayor, I'm also a father, I'm also a brother, I'm a son. I'm all of those things that make a community what it is, so for us not to do this, I think, is a gross kind of neglect of who you are as a part of it."
The mayor joked that there might be one negative aspect of getting the vaccine so publicly the day after Hoosiers between ages 60 and 64 became eligible.
"I guess one thing that it does do is, it tells people that I'm above 60," Roberson said, laughing.
Roberson previously stated how excited he was to become eligible for the vaccine, so when he did get the opportunity, he signed up right away. Roberson was infected in the fall and experienced mild symptoms. He said Wednesday that he was not getting the vaccine for his own benefit.
"It's not about me, it's about who I'm getting ready to see or meet with, that I will not be able to harm them. That's important to us community leaders, and that's important to us as families and just residents who live in Elkhart," Roberson said.
Talking to the media immediately after getting his first shot, the mayor said he was feeling fine.
"Hopefully I have no adverse reactions, but even if I did, it's worth it," Roberson said. "We all know that the positive cases are trending down, but unless we get vaccinated, we will still have COVID as a part of our community."
Blue score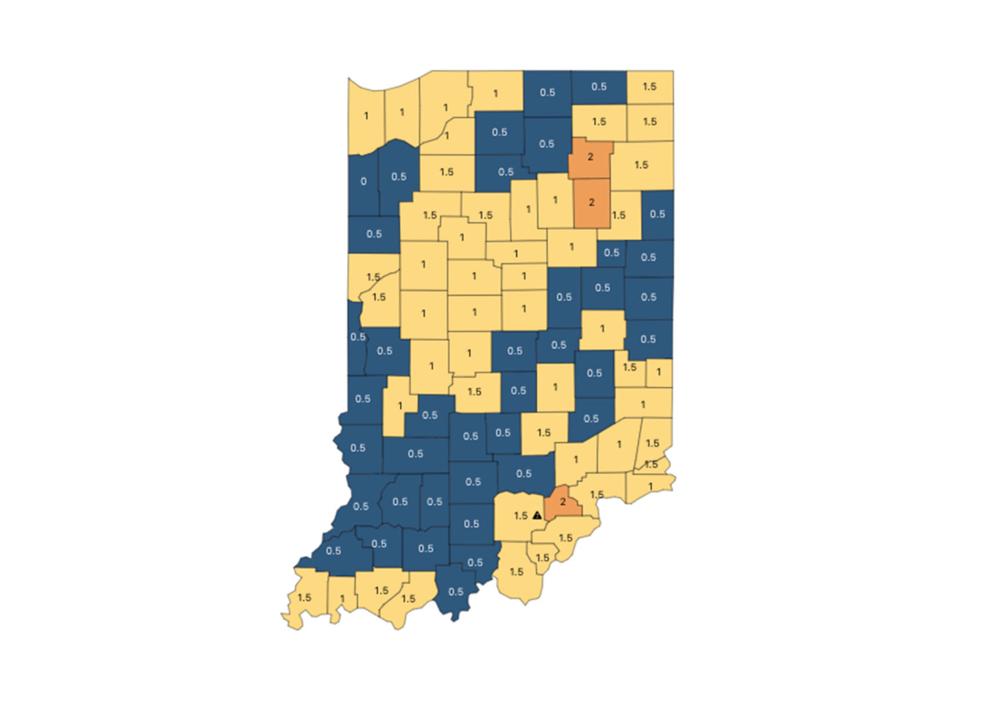 Elkhart County's weekly COVID-19 score from the Indiana State Department of Health was downgraded from yellow to blue at noon Wednesday. Blue is the least severe of four color codes.
The weekly score went down because the county's seven-day average positive test rate for all tests hit 4.69 percent for last week, below the 5 percent threshold that a county must be above to score yellow.
The other indicator used to determine a county's score is the number of weekly infections per 100,000 residents. That indicator remains yellow for Elkhart County, at 81 (blue is fewer than 10), but since both indicators must be yellow or worse for a county to be considered yellow, the score is blue.
Elkhart County's score has improvement quickly, as the county was red (meaning most severe) until Jan. 6. A red score requires a positivity rate of at least 15 percent and at least 200 weekly infections per 100,000 residents.
The blue score does not yet affect the county's advisory level, which remains yellow until there have been two consecutive weeks with blue scores. That means no restrictions are affected this week.
According to ISDH, 21 county residents died from COVID-19 in the last 30 days. That is better than many 30-day periods since March and much below the level of about 100 people who died in November, when the number of deaths was at its highest.
Hospitalizations are at one of the lowest levels seen since the beginning of the pandemic, with six COVID-19 inpatients at Elkhart General and 11 at Goshen Hospital. During the worst part of the pandemic, the two hospitals had a total of about 150 COVID-19 inpatients, significantly limiting care for other patients.
Dr. Michelle Bache, Elkhart General's vice president of medical affairs, said the situation at the hospital is currently very good.
"We are at a very manageable level, we've been down in single digits, for our COVID census. At the highest, we were above 100, so definitely a big improvement," she said.
According to Bache, the drop in new infections and hospitalizations is likely a combination of preventative measures like social distancing, immunity for those who have been sick, as well as the vaccine starting to have an effect.
"I think we're really starting to see that decreasing the ability for the virus to spread," she said.
About 10 percent of Elkhart County's population has received at least the first dose of a COVID-19 vaccine, while about 5 percent received the second dose. And though people can still get sick after being vaccinated – especially after only one shot – those people tend to get less sick and not need hospitalization.
"The vaccine has been very effective, and there is more and more evidence coming out now that it does a very great job of preventing severe illness," Bache said.
Bache, who was the first person in Elkhart County to receive the COVID-19 vaccine, thanked Roberson for getting his shot in a public way.
"We're really hopeful for people like the mayor to step forward and set that good example that this is the right thing to do and it's really necessary for as many people as possible to, when their times comes, to roll up their sleeve and take the shot," Bache said.