ELKHART — While new data show improvement on several coronavirus fronts, low vaccine uptake in the area, and particularly in LaGrange County, will result in another visit from the Centers for Disease Control and Prevention.
In Elkhart County, 31.5 percent of residents who are 12 or older are fully vaccinated. Statewide, the figure is 40.3 percent. LaGrange County is rock-bottom in Indiana, with 20.4 percent of the 12+ population being fully vaccinated.
According to Elkhart County Health Officer Dr. Bethany Wait, the CDC is coming back to the area, specifically Elkhart, LaGrange, Noble and Kosciusko counties, to take a look at why the vaccine uptake isn't higher.
"I am worried about LaGrange," Wait said. "And if you look at Elkhart County, the areas where we have a lower rate are areas that are close to those surrounding counties."
The CDC visited Elkhart County in July to figure out what was causing the area to be a hotspot for COVID-19. Wait said a date has yet to be set for the new visit, but that it is supposed to happen soon.
Vaccination uptick
The vaccination effort in the county has picked up a little after dropping from a seven-day average of about 1,100 doses being administered per day on April 10 to about 700 per day on May 10. As of Tuesday, the average was 825. According to Wait, that is likely a result of the 12-15 age group becoming eligible.
The Food and Drug Administration lowered the age that people can receive Pfizer's vaccine from 16 to 12 on May 10. The age group became eligible in Indiana on May 13, and the CDC said about 600,000 in that group nationwide received their first dose last week.
The county has increased its efforts to reach people who may not be sure about getting vaccinated. Through videos shared on Facebook, Wait provides information and busts myths, and the Health Department is planning more mobile clinics to reach people who, for instance, cannot leave work to go to a normal clinic.
While the Johnson & Johnson vaccine has been unpaused for weeks now, it is not being used locally at the same level as before the pause. Wait said that is because the state is keeping most of the J&J supply for large clinics, such as the three-day mobile clinic at Goshen High School from Thursday through Saturday this week. That clinic also offers the Pfizer vaccine, meaning children can be vaccinated there with the consent of their parent or guardian. Walk-ins are welcome.
Outbreak weakens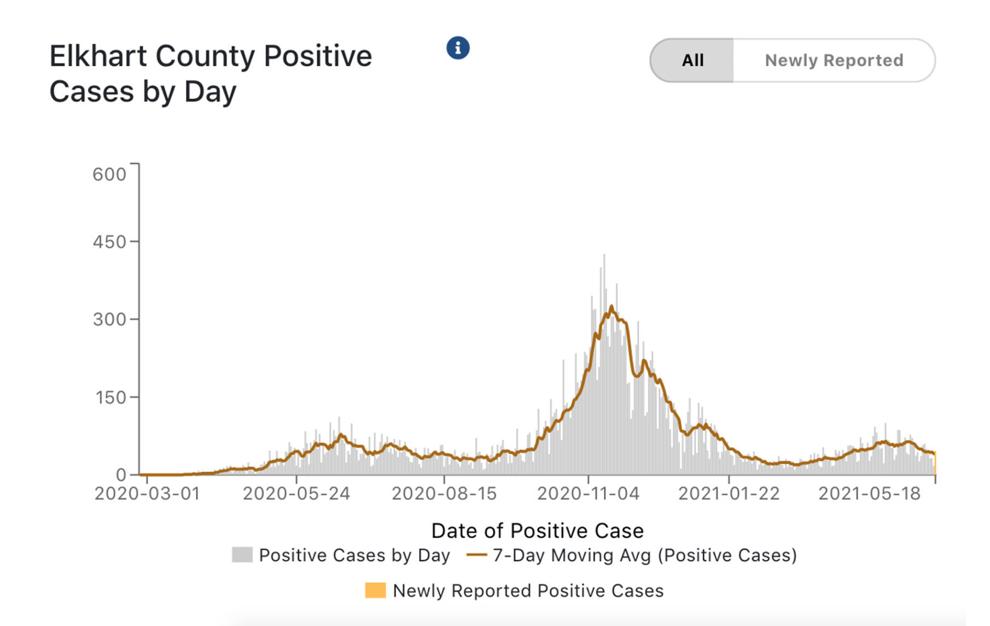 As for the actual outbreak, there is mostly good news. The state downgraded the county's weekly outbreak score from orange to yellow on Wednesday as a result of a decrease in the positive test rate.
The county's advisory level remains orange, the second-most severe of four possible levels, for at least another week, as the weekly score must be down for two consecutive weeks for the advisory level to be downgraded.
The seven-day average positive test rate, which runs a week behind, hit a recent peak of 11.1 percent on April 14 but has decreased to 7.7 percent. The change in the weekly score was a result of the average falling below 10 percent. The county's all-time high was 24.5, recorded on Nov. 12.
Daily infections had grown from a seven-day average of 19 on Feb. 28 to a recent peak of 64 on May 2, but new cases are now becoming rarer, Indiana State Department of Health data show. The average hit 40 new infections per day on Tuesday. The all-time high was 326, recorded on Nov. 17.
COVID-19 hospitalizations are also down, after both Elkhart General and Goshen Hospital were at capacity in April. On April 28, Elkhart General had 37 COVID-19 patients, while Goshen Hospital had 27. Wednesdays, the numbers were 19 and nine, respectively.
March and April had the lowest number of COVID-19 deaths among county residents since April 2020, with eight and nine lives lost, respectively. Seven residents have died from COVID-19 in May, according to ISDH data.
The county's coronavirus-related restrictions, including a mask mandate, were made void by the state legislature last week, and the CDC updated its guidelines to say that fully vaccinated individuals can leave the mask behind in most situations. That has resulted in some businesses no longer requiring that customers or staff wear a mask. Wait said people need to remember that the updated recommendation affects only fully vaccinated people.
"In Elkhart County, only one in four people is vaccinated, so I just don't think now is the time to be taking your mask off. The CDC recommendation is for vaccinated people: you can take your mask off. It's safe. But not for unvaccinated people," she said.
LaGrange County Health Officer Dr. Tony Pechin was not immediately available for an interview.