ELKHART — Both the number of COVID-19 cases and the percentage of test results coming back positive continue to rise in Elkhart County, the Indiana State Department of Health said Tuesday.
Neighboring St. Joseph County and the state overall have also seen an uptick in the number of respiratory illnesses related to the coronavirus as well as positive test rates, state health statistics show.
In Elkhart County, 65 new cases were reported, all of them from Monday, bringing the total number of cases to 3,720. The county's seven-day moving average of daily positive cases was 58, the highest average since 60 on June 24.
One additional death was reported, from July 7, bringing that total to 61.
The state said the results of 452 new tests were submitted, bringing the total number of tests completed in Elkhart County to 27,038.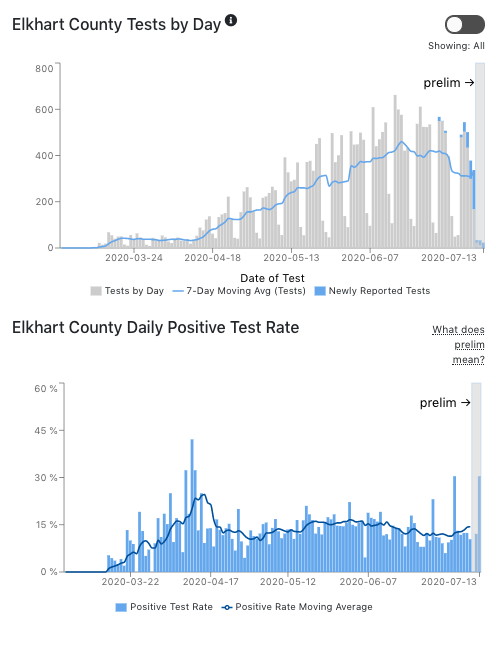 The county's positive test rate moving average rose to 14.4 percent, the highest that rate has been since it reached 14.7 percent on June 14.
Elkhart County's two hospitals each issued statements late Monday urging diligence in the face of more COVID activity.
"This is not something to take our eyes off of," said Dr. Michelle Bache, vice president of Medical Affairs at Elkhart General Hospital.
She said the number of COVID patients at the hospital remains steady, and she urged attention to masking, social distancing and hand-washing.
"If you don't know somebody who has been personally affected by this disease, it's easy to pretend (COVID) is somebody else's problem," she said. "But there are definitely many people in this community who have been terribly affected by this."
Randy Christophel, president and CEO of Goshen Health, urged residents to cooperate with health officials.
"We continue to be concerned about the increasing number of positive COVID-19 cases in our community. The length of time it is taking to get test results is disappointing, especially in light of the important work the Indiana State Department of Health is doing in contact tracing," he said. "If you are contacted by the state department, we encourage you to respond to them quickly, to help better contain the spread of this virus."
Elsewhere in Indiana
In St. Joseph County, state health officials on Tuesday reported 25 new cases, bringing the total number there to 2,235. That brought St. Joseph County's seven-day average of new cases to 37, it's highest yet.
One additional death, from Sunday, brought St. Joseph County's total number of fatalities to 70.
St. Joseph County's positive test rate averaged 8.3 percent, the highest it has been since reaching 8.4 percent on May 16.
The number of new cases and moving new-case averages in LaGrange, Noble and Kosciusko counties remained in the single digits.
Across the state, 13 more residents died from COVID-19 while another 662 Hoosiers have been diagnosed, state health officials said.
The additional deaths raise Indiana's confirmed death toll during the pandemic to 2,582. Another 193 fatalities are considered coronavirus-related by doctors but without confirmation of the illness from test results. Those deaths give Indiana 2,775 confirmed or presumed deaths from COVID-19.
The state's 662 newly diagnosed cases of COVID-19 bring the total number of Indiana residents known to have the illness to 52,685.
The state's seven-day average of new positive cases, 584, is the most since the average reached 593 on May 9, according to the Indiana State Department of Health.
To date, 578,409 coronavirus test results have been reported to the state agency, and 9.1 percent have tested positive.