Almost 1,500 support Elkhart girl with cancer through "Sarah Strong" T-shirts
Close to 1,500 people are now "Sarah Strong."
Friends and family of 15-year-old Sarah Crane have been selling royal purple "Sarah Strong" shirts as a fundraiser as she continues treatment for stage four colon cancer. I first met Sarah and her family a couple of weeks ago when Indianapolis Colts player Nathan Palmer surprised her with a visit at the Lerner Theatre in Elkhart.
"I am overwhelmed by the support Sarah and the Cranes are receiving from complete strangers," family friend Sherry Auker said in an email. "We have had T-shirt sales at Allen's Bristol Street Cafe, and shirts were also sold at the Boling's Pack a Bus event last weekend."
Ever since that day at the Lerner Theatre, I've been spotting people all over wearing the purple shirts...at the county fair, at the grocery store, at restaurants, etc. I even noticed on Facebook that members of Elkhart Firefighters Local 338 were showing their support for Sarah.
Firefighters Noah Lace, Jim Jim Kumm and Blake Searer all showing their support. (Courtesy of Elkhart Firefighters Local 338)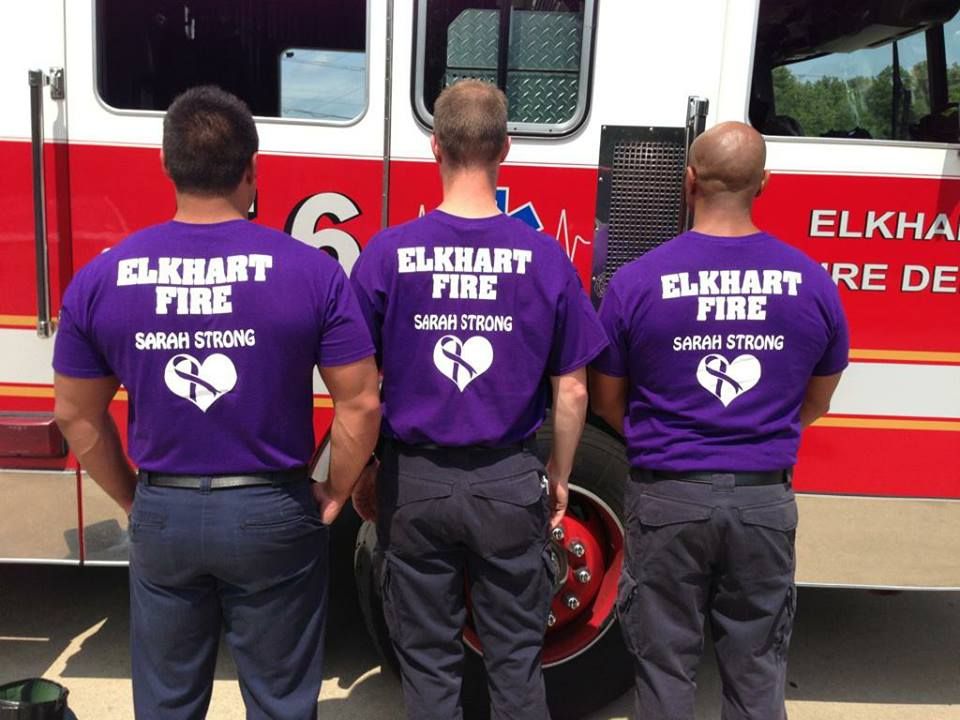 Firefighters show support with special "Sarah Strong" shirts. (Courtesy of Elkhart Firefighters Local 338)
Auker said she is still selling shirts for $15 each on behalf of Sarah's family. She can be reached at aukerfamily5@comcast.net.
UPDATE (Aug 12): Find the Sarah Strong Facebook page here.
Email me at abarbazon@etruth.com. Follow me on Twitter and Facebook.